This is a recommendation for a Libre / Free book that applies to the Whonix Libre Software project. Link to the online version of the book: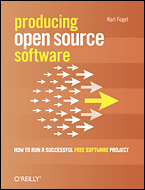 Table of Contents:
http://producingoss.com/en/index.html
Especially important I find at the moment chapter 4, Social and Political Infrastructure that discusses leadership, decision finding, participation, voting rights, voting systems, polls, consensus and more.
I wanted to keep this blog post neutral and only informative. In another blog posts I am following up with other useful concepts such as
consensus, the systemic consensus principle,
lazy consensus,
do-ocracy,
as well as with the current state of decision finding / participation
in Whonix development. See:
After that I plan on starting a discussion on how we want to handle these things in Whonix.